Berlin comuunity gathering
Berlin comuunity gathering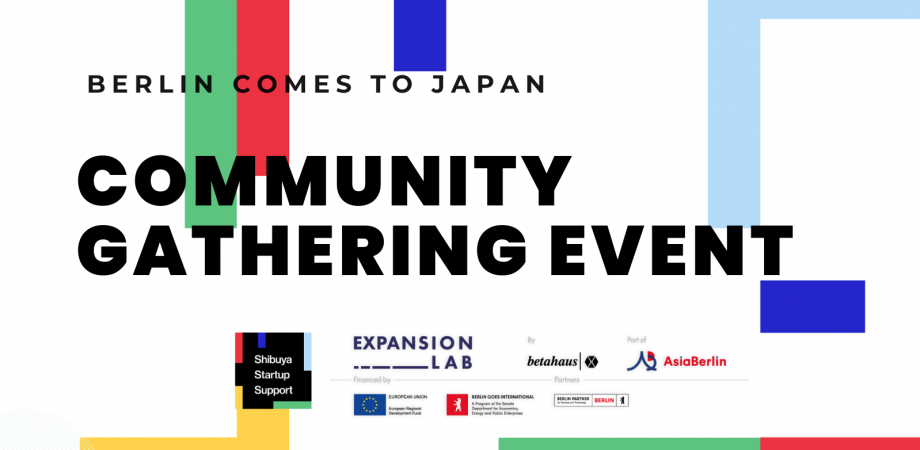 2023 Oct. 04
6:30 pm–9:00 pm
AsiaBerlin Expansion Lab and Shibuya Startup Support are teaming up to host a community gathering event at Portal Point on October 4th from 6:00 PM to 9:00 PM.
We welcome all innovative startups, investors, and ecosystem builders who have an interest in broadening their connections, not only within Japan and Asia but also throughout the Berlin region. Whether you represent a company or are an investor exploring potential partnerships, we warmly invite you to be part of this event. All presentations will be delivered in English, and if needed, we can provide assistance with straightforward interpretation to enhance the ease of asking questions and engaging in discussions. We look forward to welcoming you!
More info→ Japan Participants overview
[About Expansion Lab]
Expansion Lab is the new format of AsiaBerlin and betahausX – a unique program that provides opportunities for founders, ecosystem builders & research institutions based in Berlin to expand their network in Asia and learn about markets which usually have high barriers of entry. Meet the 12 participants of Expansion Lab, Batch #1 introducing them to the markets of Japan & Korea.

Expansion Labプログラムに参加しているベルリンのスタートアップ企業、SME、エコシステムビルダーが来日するにあたり、Shibuya Startup Support が共催しネットワーキングイベントを実施いたします。

ヨーロッパのスタートアップやエコシステムにご興味がおありの方、ぜひご参加ください。

登壇企業の詳細はこちら
※Expansion Labとは

アジアとベルリンのスタートアップコミュニティを結びつけるプラットフォーム形成をしているAsiaBerlinが実施しているスタートアップ向けプログラム。日本、韓国、シンガポール、インドネシア、インドを周遊する。

What to host an event with us?
We organize events to connect movers in the startup ecosystem in Japan and around the world. Are you interested in organizing something through us? Fill out the form and our team will get back to you!
私たちは、日本や世界のスタートアップエコシステムのプレイヤーをつなぐイベントを開催しています。私たちと一緒に何かを企画することに興味はありませんか?フォームに必要事項をご記入の上、お問い合わせください。