Interview with Shibuya's Startup Visa Holder #2: Food tech entrepreneur Wei got a Shibuya Startup Visa to boost restaurant business
Interview with Shibuya's Startup Visa Holder #2: Food tech entrepreneur Wei got a Shibuya Startup Visa to boost restaurant business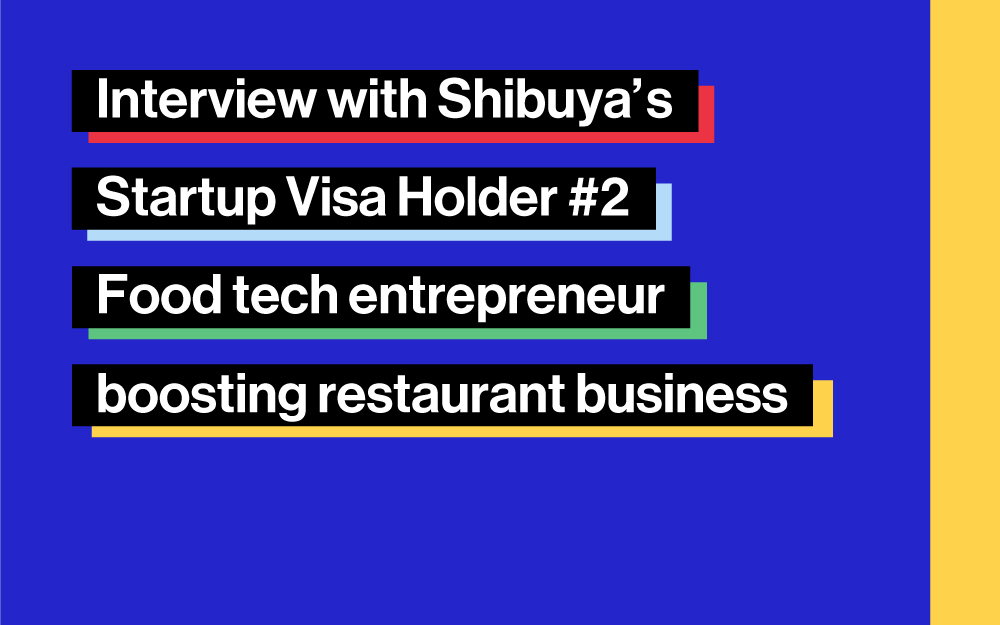 Sasha Kaverina, our communication advisor, interviewed a Food tech entrepreneur Wei. Read about his story, from what led him to Shibuya to how he is developing his product, Mona.

Chinese-born entrepreneur Wei has been effortlessly climbing a corporate ladder in the finance world but decided to ditch it for a startup dream. Now he is on the journey to revolutionise gourmet marketing in Japan, after successfully switching to the Shibuya Startup visa from a working visa.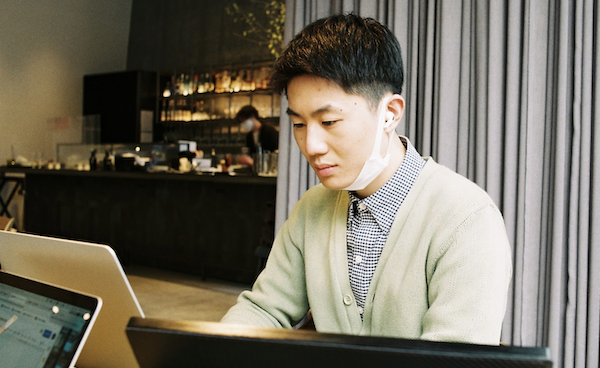 Hi, Wei! Please tell us about your personal background. 
I earned my electronic engineering degree from the Imperial College in London which provided me with a solid framework of tech knowledge. Here, I developed a deep passion for solving complex issues with innovative ideas. However, when my third year at ICL came to an end I was somewhat at a crossroad. I felt there was a missing puzzle to becoming a successful innovator.
I took a gap year to study the Japanese language at Waseda University in Tokyo and after that, enrolled into the finance program at HEC Paris, one of the top business schools worldwide. I believe that understanding finance is critical for any professionals, and definitely helps to scale a business. The double degree program also allowed me to study at the University of Tokyo, among a handful of young entrepreneurs and changemakers.
After graduating, I had several finance-related internships at large organizations such as asset management companies and banks. This approach has helped me to learn, grow, and gain some experience of an established business before landing a digital strategist job at the Tokyo-based startup. While working there, I came out with an idea for my own startup and since January 2021, I am fully committed to developing my own product.
You have solid credentials that would definitely guarantee you a highly paid corporate job. Why did you choose a risky venture?
The sweetest side of running a startup is that you have a higher degree of freedom and personal growth. The work itself is challenging, demanding and the learning curve has been steep  —  but that's amazing! The responsibility of business growth falls solely on my shoulders but I enjoy going out of my comfort zone and constantly challenge my limits.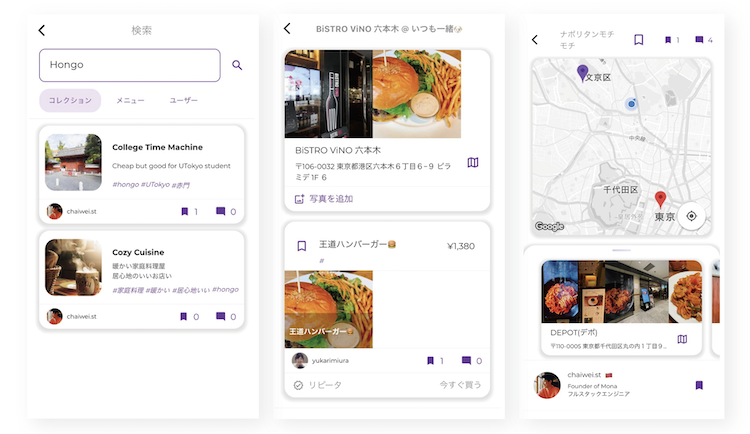 Please tell us more about your startup.
Mona is a social network for foodies that focuses on two key concepts, collections and menu.
Collection is a theme-based curated list where users put their go-to restaurant in one place. For instance, I created a collection called 'The College Time Machine' that features my personal picks of affordable restaurants for UTokyo students.
The second concept is a menu where regular customers share their orders. Typically, users rely on a social media recommendation when it's coming from an influencer. It is difficult to reach a decent number of followers for the ordinary person: you need to build up your fan base continuously for years in order to get some income. With Mona, we are changing the game. Any regular customer can become an influencer and get a 1-2% commission if the user orders through our app. If they actively bring friends, they can actually make more money out of our platform than on Instagram or Tabelog.
There is a clear benefit for restaurants as well. Instead of shedding cash on marketing campaigns, restaurant owners can convert loyal customers into influencers and promote their business value on a low budget. It is a lifeboat for individual restaurants who have less marketing resources to keep their business afloat during the pandemic.
How did your startup evolve since launching?
Thanks to my amazing co-founder Yukari and several friends helping out, our app is already on the Apple store, invitation-only. Our beta testers are currently helping to create more connections and make sure there are no bugs before the official launch. We plan to talk to 10 restaurants by the end of this week and hopefully have a contract with a few of them to start testing our cashless payment system.
Why did you apply for a Shibuya Startup visa?
Since my startup is still in a product market fit phase, I don't fit all the boxes to qualify for the business manager visa, a typical choice for entrepreneurs in Japan. Last year, I learned about the new visa scheme coming under the partnership with Shibuya city and decided to apply close to my working visa expiration date. Fortunately, Shibuya Welcome Service has a wonderful team that quickly responded to my application and helped prepare all the documents in time.
During the assessment interview, I had a Venture Capitalist looking at my business model to make sure it's viable and can actually grow within a year. Having a business model approved by a professional gave me confidence that we will definitely scale up.
It took just a week to get my application approved. I received an email from Miho Tanaka, a Startup Visa Lead, at 6:45am on Sunday congratulating me on passing an assessment interview. After issuing an approval letter, she even brought me to the Tokyo Immigration Bureau to make sure everything went smoothly. Such an incredible experience, and I am forever grateful to the team for their 10-out-of-10 support!
Congratulations! What are your next plans?
We have already been incorporated since last December – a huge weight off my shoulders. From now on, I will need to focus on getting the initial traction and making sure all our assumptions about the product market fit are correct. The toughest challenge facing in the upcoming months is hiring the best, most skilled employees and fundraising.
I think there is a good fit between Mona and Shibuya city. Shibuya's food community is an example of cultural diversity at its very best, and we will definitely thrive here. I wish to express my deepest gratitude to the Shibuya Welcome Service team for helping me get the ball rolling – the doors are open and I'm ready to take a leap.