Shibuya Welcome Service 1st Anniversary Party (Feb 24, 2022) Session Report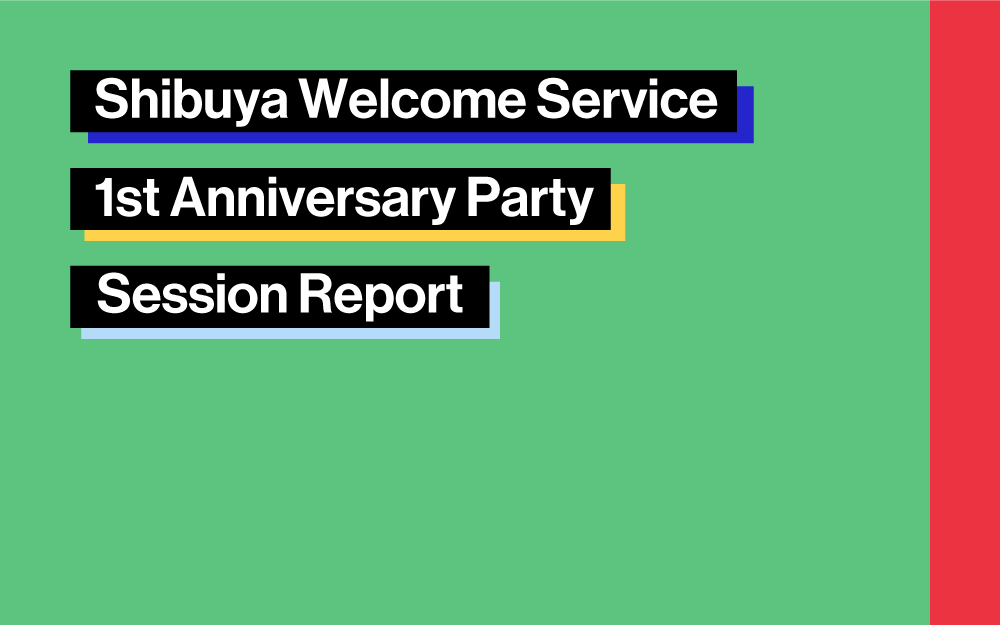 Over the last year, the Shibuya Welcome Service (SWS) community has grown significantly in numbers and impact. So we wanted to take the time to celebrate our partners and supporters who helped build a solid and diverse startup community.
The hybrid event was held online and at CIC Tokyo on Feb 24, featuring a talk session with the SWS supporters and pitches from Shibuya startup founders. Here's a glimpse of the spirited conversations.
Yoshiro Tasaka, Director of Global City Promotion Office at Shibuya City Office, gave an opening remark to thank and congratulate all the partners and supporters. He then revealed that a physical base for the SWS community would open later this year. He added that a new English website would also come soon and announced the plan to build a team of community managers to serve the diverse startup community.
Then three founders from the SWS community took the stage and reflected on their 1-year journey.
The first-up was Wei Chai, CEO & Founder of Mona, the maker of "Mona Menu," a social app to share favorite restaurants and dishes, who is also one of the first recipients of the Startup Visa. He recalled that with the help of SWS, including legal support, he could focus on brushing up on his app and the business model.
The next up was Nathan Black, CEO & Founder of Konba, a web-based communication platform. He also thanked SWS for offering him resources to find the right product-market fit, which resulted in a successful pivot from his language education-specific service to a more versatile communication platform.
The third presenter was George Reed, CEO & Founder of Noetic Digital, who takes an advanced approach to consumer research by combining crowdsourcing and AI. With the help of SWS, including the Startup Visa, he made progress on his product and signed a couple of major clients, which enabled him to seek further business growth.
The latter half of the event was a talk session with the three startup experts who had been great supporters of the SWS community.
・Alex Odajima, EDGEof INNOVATION
・Yuki Shirato, Corporate Attorney / Angel Investor / Startup Enthusiast
・Jin Tanaka, Director of Investment, DEEPCORE
We posed a few questions for them to share their insight on the startup founder's success and how to expand and improve the community.
Q1: Why is having diversity a beneficial thing to a Japanese startup ecosystem?
Jin: Startup is about scaling and growing the business, but it isn't easy to do so in this homogeneous society in Japan. Introducing different perspectives allows us to tackle new problems much better.
Alex: Whether you're a startup or not, we're living in a time of innovation. You can't innovate alone, so having an ecosystem is essential. So is getting in touch with different kinds of people, to be in mixed culture and diverse environment. I think Shibuya has great potential in that sense.
Yuki: Pandemic has shown that globalization has become more important. It is common for people worldwide to work together remotely now, and the ability to connect to these diverse talents has also become critical.
Q2: What are the main challenges for foreign founders? And how to tackle those?
Yuki: My investment firm Yakumi has invested in 30 companies. Half of them are Japanese but founded by foreigners based in Tokyo, and I found a lot of paperwork and a lack of bilingual support. On the other hand, Singapore has a bilingual ecosystem. So I think the SWS provides extremely important services to foreign founders.
Alex: Yes, the language is a big issue, and paper works. No bilingual officers at the city office. The same applies to opening a bank account and renting an office. Also, it's challenging to have honest communication with big corporate here if you are not Japanese. That's why SWS is here.
Jin: Bank accounts and Visa are examples of hard problems. But there are soft problems that can be solved by sharing knowledge and networking in the community. That human capital is also helpful for foreign founders.
Q3: How can foreign startups continue to grow?
Alex: Coming to Japan is an easy part, but what's really important is to prepare. Before you come here, do your research. Run some opportunity assessments, and approach potential customers online. Try to get in touch with people already in Japan. Try to connect to key players before coming to Japan.
Jin: You need to be prepared to build a startup business, whether you're Japanese or not. I can say that expanding business internationally too fast is not a good idea in terms of resource allocation. You'll end up running two products separately in the end.
Yuki: Unfortunately, we still have some discrimination against foreigners here. But being unique can become a strength. Looking at the bright side, we see many Japanese companies founded by foreigners succeed, including receiving significant investments.
In closing, Miho Tanaka, Startup Visa Lead, Director of SWS, thanked everyone in the community and stated that COVID-19 border restrictions in Japan are finally over and shared the hope for the coming year to be a great one.