Startup Visa
The Shibuya City Office helps you jump start in Shibuya!
We support foreign founders seeking to obtain residence to start a business in Shibuya. We also provide administrative assistance in all legal matters related to establishing a company and procuring a business license.
About Shibuya Startup Visa
As part of its initiative to foster startup businesses, the Shibuya City Office grants a special resident status, known as a "Startup Visa," for foreign startup founders for maximum up to one year. It is specifically designed for foreigners preparing to start their own scalable business in Shibuya.

We can also assist with other administrative procedures required to establish a corporate body to start a business.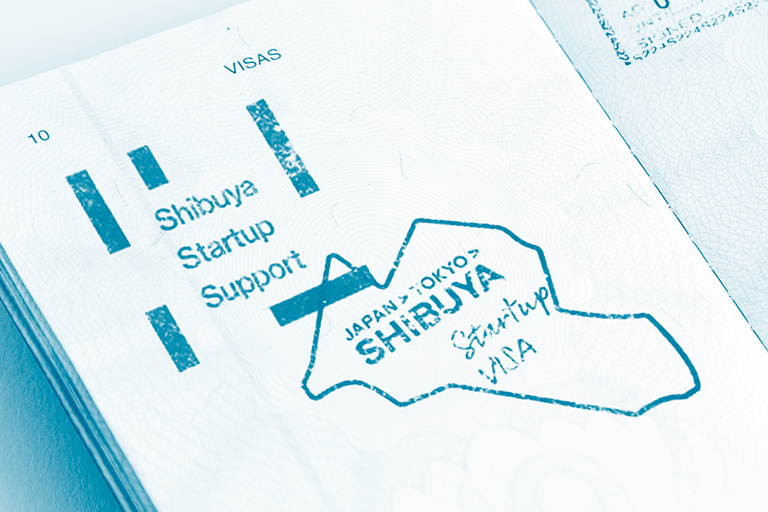 Who is this visa for?
This visa is issued to foreign nationals who wish to start a startup business in Shibuya City, Tokyo. The business must meet certain criteria to be considered a startup business. Please see the details below for eligibility and requirements.
Eligibility
The applicants must be planning or engaged with a project with the potential to strengthen the international competitiveness of Shibuya City's industries and expand employment. This applies to the following sectors:
1. Health, medical, and welfare-related industries
2. Environmental and energy-related industries
3. Food, agriculture, forestry, and fisheries-related industries
4. Information-related industries
5. Culture and arts-related industries
6. Fashion related industries
Can You Get a Startup Visa?
Self-check to see if your business qualifies for a Startup Visa with Shibuya City. Is your answer to the following questions YES?
Does your startup introduce a new product that is innovative and new?
Is your business model scalable?
Does your startup have exponential growth potential?
Does your startup have potential to grow domestically and globally?
Does your startup have an exit strategy?
Flow for Startup Visa application
To apply for a Startup Visa, please first use the "CONTACT US" form on this website. Make sure to select "about startup visa" from "Inquiry type." The Shibuya Welcome Support (SWS) team will assist you throughout the process.
Step 1

Contact Shibuya City Office

Step 3

Get your application approved by Shibuya, apply for visa

Upon passing the document screening process, you will be interviewed. Once Shibuya approves your application, your application for the Startup Visa will be submitted to Immigration.

Step 4

Upon the approval of the visa, you are ready to start

The Shibuya City Office offers various support services, including co-working space and partnerships with local companies to help you get started.
FAQ
How can I qualify for Shibuya's Startup Visa program?


What do I need to prepare to apply for a Startup Visa?


Which language do I need to apply for a Startup Visa? Do I need to speak Japanese?


The program is conducted in English.


Can I apply for a Startup Visa from abroad?


Yes.

List of Visa Holder Companies
Meet our inspiring startups who have benefited from the Startup Visa program in the past. Ranging from solo founders to foreign startups, Shibuya Startup Support has supported startups of various stages and industries.